Update
Been a long 2 weeks, EES field trip, Lakes trip
yawn, missed my bike, amongst others.
While ive been away, got myself into 'beacoup de' debt, fees came out before loan went in, is ok now though, This site hit over 1000 hits, rock n roll, not impressed i missed it though.
Ive also set up a fotopic account up, one for MTB and one for this website, for batches of usless photos so they dont clog up photobcket, they are linked on the right.>>>
For those of you who are interested, here Charlie B dominating a rock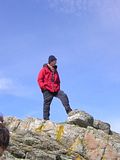 Im sure i had more to say, but you know how it is.
Busy busy busy
XXX
me