Jen the Ducks Braids
£146, 11 hours 30 mins and 2 heads worth nylon of hair plus original hair, carefuly extracted in the epic time of 4 hours, wev'e been goin since 8:00!
Jens off having the first shower since december at the moment, so i thougth ide take the opertunity to post the pictures of this surgical/military operation.
Too many cooks wont spoil this broth, 5 pairs of hands on one head, and it still took us 4 hours!
joy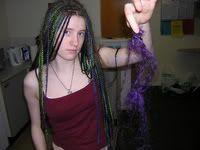 thats a lot of fluff!